Introducing Our 2021-22 Student Ambassadors; Thank You to Our 2020-21 Student Ambassadors!
This post was written by Stephanie Jares, Coordinator of Advising in the Department of Sociology and Anthropology.
When I joined the Department of Sociology and Anthropology as the Coordinator of Advising in December of 2019 one of my goals was to start a Student Ambassador program similar to the Student Ambassador program that I was fortunate enough and loved to work with since June of 2015 that is led by Bonnie Yarboro when I worked at the Poole College of Management at NC State for almost 5 years. The Ambassadors at Poole became like family to me and were an integral part of Poole and I wanted to bring that same experience to the Department of Sociology and Anthropology. When I sent an email to all of the undergraduate students in the Department of Sociology and Anthropology in January of 2020 introducing myself and asking students if they would be interested in applying to be a Student Ambassador to work with both current students and incoming and potential students as mentors and to help plan activities, work with Communications and recruitment I had no idea what to expect. I also did not expect that once I interviewed students and had my team of Student Ambassadors that a little more than a month later a global pandemic would hit and I would only have the opportunity to meet with my Ambassadors once in person in February of 2020 before NC State went remote due to COVID I would still be able to get to know them virtually like family.
The Ambassador Team of 15 current Ambassadors has exceeded expectations and has become like family to me. In the sixteen months that we have been a team they have gone above and beyond for the Department of Sociology and Anthropology and have told their story as NC State students and as Anthropology, Criminology or Sociology students. They have listened to students they mentor in the Student Connections Program and have connected them to valuable resources. The Ambassadors have met with current students who are considering changing their major to a major in our Department or coming to NC State in their free time. Also this year we reintroduced this Newsletter that has been written 100 percent by the Ambassadors and they have brought the stories of our Department to you. We will continue to have all of the same programs in the upcoming academic year including the Student Connections Program and will be introducing even more programs!
I cannot thank the Ambassador Team enough for everything you have done for the Department. When I started the Ambassador team I wanted to share an experience that I had been grateful to have and the Ambassadors that I have been fortunate to work with over the past 16 months have been a gift to me and to the Department — THANK YOU!
Also beginning with the graduating class of May 2021 Student Ambassadors the Department of Sociology and Anthropology will be honoring the Student Ambassadors with a special recognition — an Honor Cord that will be given to each graduating Student Ambassador to thank them for their hard work and dedication to the Department of Sociology and Anthropology. The Student Ambassadors go above and beyond and we are happy that we will be able to recognize them through an Honor Cord.
In the March edition of the Newsletter we spotlighted the 6 graduating Ambassadors who have been with me since the beginning of the Student Ambassador Team — you can find that article here:
In this article I would like to reintroduce you to the 9 returning Fall 2021-Spring 2022 Student Ambassadors and also introduce you to the 3 new Student Ambassadors!
Our Returning Student Ambassadors
Samantha Aiken
Hey y'all! My name is Samantha Aiken and I am a Senior majoring in Anthropology and Microbiology with minors in Forensic Science and Global Health. I'm from the small town of Stedman, North Carolina. My hobbies are playing Animal Crossing and origami, and I am the Vice President of the Rural Health Outreach Club here on campus.I knew that NC State was the place for me from a young age, probably because my dad taught me how to throw a wolfie before I could tie my shoes. I came to NC State as a freshman with the intent to study Human Biology, but I found my place in this department through my interests in archaeology and cultural anthropology.
Submitting my CODA application and joining this department was one of the best decisions I've made during my time in college. The support from both students and faculty here has been overwhelming and has made my college experience incredibly enjoyable. I'm really excited to be a returning student ambassador!
Chloe Boswell
Hi y'all! I'm Chloe Boswell and I am a rising Junior pursuing a degree in Criminology and Communication with a concentration in Public Relations. I am an out-of-state student from Virginia, but my family just moved to Tennessee! My dad grew up in North Carolina, and is a graduate from State, so he groomed me to be part of the wolfpack growing up. I am so glad I chose to come here; while I knew no one my first day on campus, I was eagerly welcomed by this strong community and have met some of my lifelong best friends.
Becoming an ambassador for the Department of Sociology and Anthropology has been such a blessing! I love our department, faculty, and my fellow peers. I submitted my CODA to go into criminology after coming to NCSU as a political science major because I was (and still am) interested in the sociological aspect of crime, rather than a basic criminal justice program that most other schools have. Since then, I have thoroughly enjoyed all my criminology and sociology classes through this department and have such respect for all of my professors. Being able to share my love for our department as a whole with new and prospective students has been one of the best parts of my college experience!
Deirdre Byrnes
Hello everyone! My name is Deirdre Byrnes and I am a rising senior here at NC State. I am pursuing a double-major in both Criminology and Psychology with a minor in Forensics! I am originally from Long Island, New York, but have lived in Wilmington, NC for a while now! Growing up, my dad was a member of the NYPD so I have always been interested in criminal justice, law, and forensic science. I originally applied to NC State as a Criminology major, however, before my freshman orientation actually switched into the Exploratory Studies Program. Everything really does happen for a reason because through the Exploratory Studies Program, I was able to find my other passion and love for the study of Psychology. I am especially interested in the huge overlap this field has within criminal justice and criminology altogether, specifically in regards to psychopathology, crime, as well as crime prevention.
I chose NC State because of all the amazing opportunities this school has to offer, especially within this field of study. I also loved the location of Raleigh and decided it was the perfect distance away from home. As a rising senior, I have been given the amazing opportunity to work with this Ambassador Program, the Criminology and Criminal Justice Club, as well as am currently a member of a Co-Ed Service Fraternity (Alpha Phi Omega). Additionally, I am also a College of Humanities and Social Sciences Ambassador, and have had some amazing research opportunities as an Undergraduate Research Assistant for two separate projects here at NC State as well. I have truly loved having this opportunity to be a Student Ambassador for this Department. I have loved helping other students and getting to know them on a more personal-level, and am so thankful to have found a smaller "home" in this Department. I hope to one day obtain a job within counterterrorism and work within the Bureau or for Homeland Security. I am also extremely interested in Trauma Psychology and have been exploring that field recently as well. I am forever grateful for NC State, the friendships I have made, the opportunities I have been given, as well as this amazing Department (and of course our head, Stephanie Jares). I am so excited to see what else I can do with the time I have left here! GO PACK!!
Lindsey Fath
Hey Everyone! My name is Lindsey Fath. I am currently a senior here at NC State University, and will be graduating in December! I am pursuing a major in Criminology with a double minor in Forensic Science and Anthropology. I am from Durham, NC, so I am not too far from home, but I am far enough. I chose to come to NC State because their program here is the best. Academic Advisors make sure to meet with you one-on-one to be sure that you are keeping up with your classes and make sure you graduate on time. They are also a great resource for recommendation letters! In addition to being a Department Ambassador for this amazing department, I am also a College of Humanities & Social Sciences Ambassador!
My dream job is to work for the State Bureau of Investigation, and I was able to get an internship there for this summer! I will be assisting special agents with homicide investigation, crime scene investigation, and will be looking into some high-profile cold cases in North Carolina. Being at an institution like NC State really helps you when it comes to getting jobs or internships. It can set you ahead! I also tutor for the Academic Support Program for Student-Athletes here at State and play intramural ultimate frisbee. If you are ever interested in trying a new sport, this is the one for you! Lastly, my favorite thing to do is foster animals! I helped a three-legged dog recover from amputation surgery this past summer and I have had 12 fosters in total! It is a great thing to do in college because it doesn't cost a thing. I'm excited to share my experiences with you guys here and as always, Go Pack!
Shelby Feirstein
Hey everyone! My name is Shelby Feirstein and I am a Senior at NC State majoring in Anthropology and minoring in genetics, forensics, and French. I have moved seven times in my life, but have spent the majority of it in North Carolina. I am so happy about that because it led me to NC State, a place that truly feels like home. While that may sound cliche, it's this feeling that drew me to campus and I have loved it ever since. I have had many positive and gratifying experiences thus far. In my time at State, not only have I had the wonderful opportunity to act as a student ambassador for the Department of Sociology and Anthropology, but I have been a member of Alpha Phi Omega, a co-ed national service fraternity, Hillel, the Jewish student organization, and the University Scholars Program.
Specifically though, being an ambassador has brought me much closer to my department and has allowed me to meet so many interesting and accomplished students and staff members. It is the unconditional support from these people that have helped me to obtain an internship studying trend analysis and working on policy change for the greater Raleigh area this last Fall. I am also working toward a career in Forensic Anthropology with aims of working for a bureau full-time and for a Disaster Victim Identification team on the side. While the path to accomplish my career goals is not clear, I know that I can lean on those in my department to support me while I pursue different graduate programs and weigh my options. Wherever the future takes me, I know that I will look back and be able to thank everyone who supported me in my undergraduate career. Thank you Wolfpack for all you've given me and will continue to give me in my time left here. Go pack!
Kathleen Huber
Hi everyone! My name is Kathleen Huber and I am a junior double majoring in Criminology and Psychology. I am originally from Santa Rosa Beach, Florida and have lived around the Southeast my whole life! (Raleigh has been my favorite though!) I chose NC State for a few reasons, the most important being that I had the flexibility to double major with nearly any combination! I originally was a Criminology and Arts Studies double major, but I eventually found that Criminology and Psychology was a better fit for me! I also love that NC State is such a large university. This has allowed me to make friends with people in a variety of majors and backgrounds. NC State's location was another factor for me! I love being so close to downtown and having the Triangle to explore. There are so many opportunities to gain experience in criminology not only through the university, but also through many of the law firms and government agencies in the area! This summer I will be interning at a local law firm, and next summer my goal is to intern with the State Bureau of Investigation.
I love the Department of Sociology and Anthropology and being a part of the Student Ambassador Team! I have had so many wonderful experiences with the courses and professors in the department. Being an ambassador has been such a great experience, and I hope to continue to share my experiences with others throughout the rest of my time at State!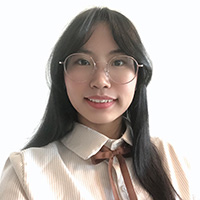 Yuanyuan Li
Hi everyone! My name is Yuanyuan Li and I'm a junior majoring in sociology. I'm also an international student originally from China. Though I'm in a definitely different environment for my college life and to be honest, it was hard to try to get involved in a new culture and use a second language at the beginning, NC State provides me a lot of help and really makes me feel like home. People at NC State are friendly and willing to be there for me when they are needed. I'm grateful for all these help, especially when I first came here.
I wasn't so sure about whether sociology was a good choice for me before I started college, but after taking various classes I can say that I've never regretted this choice. It helps me to see the world in a different perspective and take a look at things we take for granted. Being a student ambassador at the Department of Sociology and Anthropology provides me many opportunities to share my experiences and tell them we are here. There is a word in Chinese called "yuanfen" which can refer to something combined with fate and coincidence, and I would like to use this word to explain why I'm here now. Thanks for all the people I met and everything I experienced here in NC State that makes it the second home for me and GO PACK!
Carly Richardson
Hey all, my name is Carly Richardson and I am a rising senior double majoring in sociology and political science with a minor in English. I'm from Greensboro, North Carolina but have happily called Raleigh home for the last three years. I chose NC State largely because I felt that, due to being located in the state's capitol, I'd have a lot of opportunities as a political science major. Not only was I right about that, but I have since found innumerable other reasons why NC State was the best choice for me. One such being this department. In my first semester here I took Current Social Problems (SOC 203) to fulfill a general social science requirement for political science. What was intended to be just a filler class ended up being, to this day, one of my favorite classes and the one that motivated me to add on sociology as a second major. Since then I've fallen in love with sociology and have found it to be the perfect compliment to political science. That is ultimately why I decided to apply to be an ambassador to the department in early 2020: to share my passion for the discipline and give back to the department that has given me so much.
Outside of academics I enjoy playing for the women's club rugby team, of which I am the president, climbing the rock wall in Carmichael gym, riding my bicycle on Raleigh's many greenways, and working with faculty to address student hunger and housing insecurity. After graduation my plan is to take a gap year to gain work experience before applying to law school or graduate school in preparation for an eventual career in public service. My time at NC State has been some of the best I've ever had and I'm eager to continue sharing my experiences and the many offerings of the Department of Sociology and Anthropology!
Maura Wyatt
Hi everyone! My name is Maura Wyatt and I am a Senior majoring in Anthropology here at NC State. I originally came to State as an English major concentrating in Creative Writing, but as I took more and more classes here at State, I knew Anthropology was for me. My first year at State I lived in the Arts Village, which was one of the best communities I've ever had the pleasure of being a part of. The Arts Village was a great way to have a community as soon as I got to NC State, and being a freshman it gave me the opportunity to make friends and get advice from older members of the village.
My ultimate goal is to go to law school, and I think Anthropology has prepared me well for this new journey. All the professors I've had at NC State (and specifically in the Sociology, Anthropology, and Criminology departments) have been beyond helpful in preparing me well for my future goals as well as life in general. Being a student ambassador for the department has prepared me as well and become a huge part of my career here at State. It has been a joy to serve as an ambassador for my favorite program here at State, and to share that experience with my fellow peers. I'll be sad to graduate in December but will remember my time as a member of the Wolfpack and the student ambassador team with great fondness!
Introducing Our New Student Ambassadors
Justice Cass
Hi everyone! My name is Justice Cass and I am a junior majoring in Criminology with a minor in English. I live in a small town in Union Grove, North Carolina, but I am originally from Cape Cod, Massachusetts. In my free time I write poetry and am an avid consumer of classic literature. I am also a member of the 2021-2022 cohort of Social Innovation Fellows here at NC State.
I transferred to NC State from a university in Massachusetts and was initially a psychology major. I have always had a passion for restorative justice and the transformation of the current justice system into one that genuinely works fairly and equally for all citizens at all levels. Due to this passion, I submitted a CODA application to change my major to Criminology and was ecstatic when it was approved. Once I began taking courses within the Criminology program my excitement only flourished and my decision was given further validation. The Department of Sociology and Anthropology has been nothing short of welcoming and helpful in my journey here at NC State. Becoming a part of the ambassador program allows me the opportunity to extend the same helping hand to others that I have been given by sharing my knowledge and experiences.I am beyond thrilled to begin sharing my passion for this department and NC State University as a whole with new and existing students!
Taylor Hook
Hey y'all! My name is Taylor Hook. I am a rising senior pursuing a degree in Anthropology. I have also obtained minors in forensic science and biology. My hometown is Burlington, just an hour away, but I have been permanently living in Raleigh for two years now! Outside of my new role as a Student Ambassador for this department I also work as a Community Assistant for the residence halls on West Campus for NC State University.
I originally chose NC State University because of the great biology department as I was intending to major in Human Biology. I transferred into the Anthropology program my second semester of sophomore year after taking a Physical Anthropology course. After just one introduction course I was able to realize my interests in biology could still be pursued through the Anthropology department while also getting the important Humanities background. I fell in love with the Anthropology program at NC State University very quickly with the help of the amazing professors that are a part of the program. I am so excited to have the opportunity to share my experiences and passion for Anthropology and Sociology through the Student Ambassador team!
Josie McGlynn
Hello everyone! My name is Josie McGlynn and I am a rising junior studying Criminology. I'm from a small town in Massachusetts but I have enjoyed living in Raleigh for the past two years. I came across NC State during my college search while still in high school. I knew I wanted to study Criminology and attend a large university, but I certainly did not expect to end up in North Carolina, over 700 miles away from home! However, even after spending my first semester at NC State, it already felt like a second home to me. Although NC State has over 30,000 students, the Department of Sociology and Anthropology acts as a close-knit community which allows students and faculty to work with familiar faces and form stronger relationships throughout the years. There are certain courses I plan to enroll in just because I had the professor before and had thoroughly enjoyed their class.
I love NC State because it has so many opportunities and resources available for students that I would not have access to otherwise. For example, I enjoy spending time at both libraries on campus. These libraries are great and relaxing work environments for homework and group projects but they also offer many workshops and even lend out certain technological equipment. For example, cameras and tripods are available for lending which are useful for those interested in photography or those who just need a nice camera to take some professional photos for resumes and more! I also play on the women's club rugby team and have had the opportunity to travel to many states and beautiful cities that I have never been to, such as Savannah, GA! I am grateful to be a student ambassador and work with others in my Department that share similar interests and passions as me. I can't wait for this summer and next year to continue sharing my experiences and getting more involved at NC State!