Department Newsletter
Welcoming and Celebrating: The Department of Sociology and Anthropology Student Ambassadors
The Department of Sociology and Anthropology's Student Ambassador program is a team of undergraduate student volunteers who help with student activities, new student recruitment, department communications (newsletter), student involvement and student mentorship through the Student Connections program. Each student in the department is paired with a student ambassador from the time they enroll at NC State until graduation. Starting this semester, in Fall 2021, a Student Ambassador Alumni program will be conducted once a semester. Student ambassador alumni will share virtual presentations on topics such as student success, careers, graduate school and networking.
Student ambassadors receive a special recognition during graduation — an honor cord to thank them for their hard work and dedication to the Department of Sociology and Anthropology.
Students may apply to be a student ambassador if they have completed at least one semester at NC State and at least one semester in the Department of Sociology and Anthropology and have an overall and major GPA of 2.0.
In this article I would like to reintroduce you to the seven returning Fall 2021-Spring 2022 student ambassadors and also introduce you to the six new student ambassadors for Spring 2022! We also would like to especially thank our three graduating student ambassadors who will graduate in December 2021! Our graduating student ambassadors will be missed but will be returning as student ambassador alumni!
Welcome to the new six student ambassadors who applied in the Fall 2021 semester and were chosen for the position of student ambassador!
A special thank you to all of the seven student ambassadors who are returning for the Spring 2022 semester for all of your support of our department, NC State and of our students! 4 of the 7 student ambassadors who are returning for the Spring 2022 semester have been with the student ambassador team since the team began in February 2020!
Also, we especially want to thank our three graduating student ambassadors! All three ambassadors are members of the first team of student ambassadors since the team began in February 2020 and have gone above and beyond for the department, NC State and our students. At the Fall 2021 Departmental Commencement Ceremony on Dec. 13, all three will be recognized for their dedication and effort.
Click on the + signs to read more about each of your student ambassadors.
New Spring 2022 Student Ambassadors
Returning Student Ambassadors
Celebrating Our Graduating Student Ambassadors
We asked our three graduating student ambassadors to them about themselves, reflect on their time at NC State and what is next for them. We are very excited for their futures and grateful for all of the time that they have volunteered since February of 2020 with the Department of Sociology and Anthropology. Thank you Lindsay, Shelby and Maura!
Lindsey Fath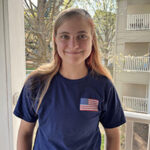 Lindsey Fath is graduating with a Criminology major and Forensic Science minor. Upon graduation, she will be joining the Wake County Sheriff's Office as a Sheriff Deputy and starts in January. While at NC State, Lindsey participated in a number of activities that she attributes to making her the person she is today.
As a freshman, Lindsey created an intramural ultimate frisbee team with her twin sister Dani. This past fall was her last season and the team has been passed down to underclassmen to keep the name alive. As a sophomore, Lindsey started working for the Academic Support Program for Student Athletes (ASPSA). She tutored many athletes and enjoyed everything she learned there. She recommends this job for anyone interested in helping others academically. At this time, Lindsey also became a Student Ambassador for the Department of Sociology and Anthropology where she helped students with their transition to college. As a junior, Lindsey participated in the Citizens Police Academy hosted by the NC State Police Department. She learned a lot and will use what she learned for her new job in January. At this time, Lindsey also became a Student Ambassador for the College of Humanities and Social Sciences where she got to talk to students about her experience at NC State. Lindsey is graduating a semester early, and has been focusing on her schoolwork this past fall.
Six months ago during summer 2021, Lindsey was able to obtain an internship with the North Carolina State Bureau of Investigation. She got to observe a variety of investigations that will aid her in her new job. If she had to give one piece of advice to her fellow students, it would be to take advantage of all the opportunities college has to offer. She says that it has shaped her into the person she is today and she's proud of the person she has become through NC State. Lindsey is proud to have attended school at NC State, and she knows she will always be part of the Pack!
Shelby Feirstein
Shelby Feirstein is an Anthropology major with minors in Forensics, Genetics, and French. Her three and a half years at NC State have been formative and unique. In her time here, Shelby has pursued opportunities that allowed her to advocate for systemic equity and social change. Most notably, she served as the Fall '20 Service Vice President for Alpha Phi Omega, a co-ed service organization on campus, where she developed and executed a grant-funded plan for a Food Insecurity themed service retreat. Additionally, Shelby had the opportunity to intern with the Raleigh Police Department Research and Planning Unit. There she looked at trend analysis, worked on policy change, and conducted research related to the implementation of an initiative supplying housing, mental health, and substance use treatment resources to individuals in crisis.
At the campus-level, Shelby has valued her time as a Student Ambassador where she was given the opportunity to share her experiences in a variety of ways. Whether it was connecting with fellow and prospective students or reaching a wider audience with the Departmental newsletter, Shelby feels as though she has been able to leave a piece of herself to NC State.
Currently she is applying for Master's programs for the Fall of 2022. She is pursuing a career in forensic Anthropology, focusing on disaster management and human rights. In the meantime she will continue in her current internship within the Office of the Assistant Secretary of Preparedness and Response within the HHS, working to integrate climate resiliency into health and human services.
Shelby recalls feeling nostalgic the first day back on campus this semester, already sentimental about everything she will miss. However, she is grateful for her time at NC State and knows she will find her way back to Howling Cow ice cream in the future. She wants to thank everyone who has supported her along the way, and knows that she will always have the support system she needs to pursue what she desires.
Maura Wyatt
Maura Wyatt is an Anthropology major with intent for law school. While at NC State, Maura has taken advantage of a number of resources that have contributed to her ideal college experience. Her first year at State, Maura was a member of one of the Villages on campus, the Arts Village. While in the Arts Village, Maura was able to find a community and still participate in doing the artistic things she loves, while still having her primary focus on her major studies. Also during this time, Maura worked at the NC State Crafts Center, specifically in the woodshop. The Crafts Center is open to all students and Maura recommends everyone take advantage of this unique resource, as it's a place where you can find a new passion, learn new skills, and meet individuals with similar interests!
Starting in February of 2020, Maura has been a Student Ambassador for the Anthropology, Criminology, and Sociology Department, which she has loved every minute of. Through the departmental student ambassador program, Maura has been able to help fellow students on their journey at NC State, and assist potential students in making their college decisions. Furthermore, she has found a group of fellow Student Ambassadors who she has been grateful and privileged to both support and lean on during the tough times we have seen throughout college and the pandemic. This group has been a wonderful experience and one she will cherish far beyond just her college career.
Maura was able to take part in a legal internship during her sophomore year at NC State, which sparked her further interest in going to law school. Currently, Maura is applying for jobs in law firms to gain experience and later apply to law school as her career goal is to become a lawyer. With great excitement for the future, Maura is grateful for all NC State has offered and continues to offer her as a member of the Wolfpack!
This post was written by Stephanie Jares, director of the Student Ambassador program and coordinator of advising in the Department of Sociology and Anthropology.